Need help?
Call 1300 935 532
We recommend pre-booking your experiences as tours do book out in peak periods and most of our attractions offer priority queues for prepaid tickets. If you have any questions, feel free to contact us!
The Story Bridge Adventure Climb is a unique adventure experience and the most spectacular way to discover Brisbane. Ideal for all fitness levels and ages, you will be exhilarated by the breathtaking panorama of Brisbane and its surrounds. Once atop the bridge, you will be rewarded with the amazing views and sense of achievement provided by the climb! You will hear interesting and factual commentary by experienced climb leaders, including history and heritage information of both the city and the bridge.
The Story Bridge Adventure Climb is challenging but safe; unique but affordable. It is a 2.5 hour experience with spectacular, uninterrupted 360 degree views. It is one of only 3 bridge climbs in the world. Dawn, day, twilight and night climbs all available.
All climbers are supplied with a full-enclosed climb suit, and the climb leaders will advise you of the weather conditions for the day and suggest comfortable clothing to wear in conjunction with your climb suit. Accessories provided include hats, handkerchiefs, sunglasses, lanyards, all-weather jackets and sunscreen, and all climbers are required to wear fully-enclosed rubber-soled shoes.
Commentary from the leaders is delivered via a radio headset, however you will be unable to communicate through the radio headset yourself - you will still be able to directly interact with your fellow climbers and the climb leader throughout the entire experience however.
The Brisbane Story Bridge Climbs fill up fast, so be sure to book tickets for all involved as early as possible!
Choose from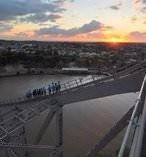 Rise and shine for an early morning experience with the Brisbane Story Bridge Dawn Climb when the air is at its freshest and the views amazingly clear.
The Brisbane Story Bridge Day Climb option will let you see views of Brisbane and across to Moreton Bay in the east and the Scenic Rim in the west.
The early evening sun provides a romantically charming touch to the proceedings on this twilight version of the Brisbane Story Bridge Adventure Climb.
The spectacle of Brisbane's city night lights provide a wonderfully illuminated backdrop to take part in the Brisbane Story Bridge Adventure Climb.